Page - World Hepatitis Day: Activists calling for access to treatment, companies announcing record profits
July 29th 2015 – Yesterday the World Day to Combat Viral Hepatitis was commemorated worldwide. The GTPI (Intellectual Property Working Group) chose this date to denounce the exorbitant profit rates applied by the pharmaceutical industry to medicines at the expense of the lives of millions of people. New treatments that greatly increase the chances of curing Hepatitis C and could pave the way for the eradication of the disease are at the same time the flagship of pharmaceutical companies that charge over the top prices for them. Governments are therefore forced to choose who gets treatment and who will have to wait and suffer more damages caused by the disease.
More than 150 million people live with Hepatitis C worldwide, most of them in middle-income countries. It is in these countries that pharmaceutical companies are becoming more aggressive in their patent requests and high prices strategies.
GTPI has been working in Brazil to expand access for sofosbuvir, a new drug against Hepatitis C that simplifies treatment and provides better cure rates, so that it can be provided to all patients without restrictions. With this goal in mind, GTPI filed a patent opposition against Gilead's patent application for this drug. Learn more about the reasons and arguments behind this opposition here.
If successful, GTPI's effort will put sofosbuvir in the public domain, allowing the production of generic versions which will result in a lowering of its price. Currently, the government is trying to quickly secure the distribution of sofosbuvir in the Brazilian public health system (SUS), but the price of U$S 7,500 per treatment required by Gilead restricts access for most people.
The GTPI highlighted two announcements during the World Day to Combat Viral Hepatitis. First, a statement by ITPC, an international coalition of patients, who warned that the prohibitive cost of drugs as sofosbuvir will result in unnecessary deaths if immediate actions are not taken to reduce prices. Second, an announcement by Gilead, which released its revenue and profit records for 2015. The profit margin, considering the first six months of the year (until 06/30/2015) was of 57% (equivalent to 12.1 million!), the pharmaceutical industry's second highest profit rate. This announcement, coinciding with the World Viral Hepatitis Day, sounds almost like a provocation, since sofosbuvir is one of the products that offers great benefits for Gilead.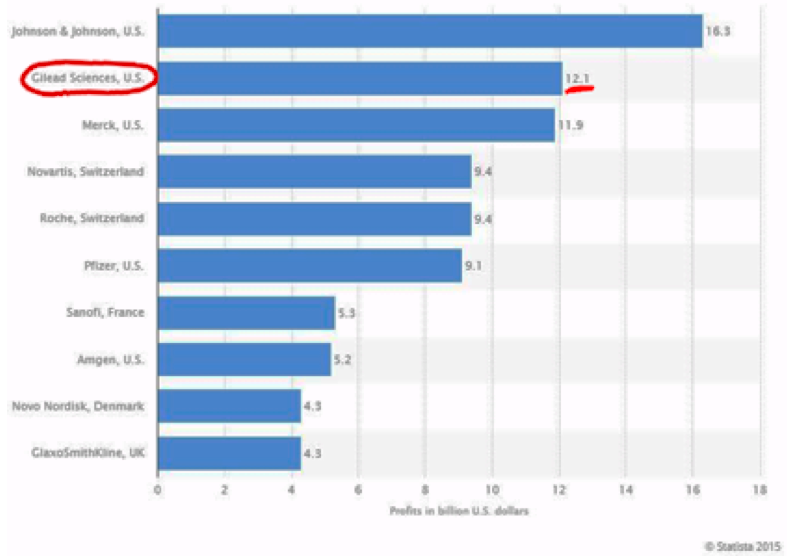 Learn more about Hepatitis C treatment in Brazil in this video.